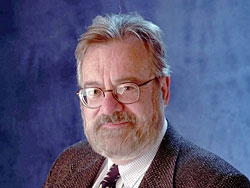 RINDGE, NH – Veteran Washington journalist and presidential scholar Kenneth T. Walsh has been selected to receive the 2006 Marlin Fitzwater Award for Leadership in Public Communication at Franklin Pierce College's third annual Fitzwater Center Honors. The event will take place at 6:30 P.M. on April 21 at the College's Manchester Campus.
The Marlin Fitzwater Award for Leadership in Public Communication was established by Franklin Pierce College in 2004 to honor an individual who has made significant contributions to public discourse in the spirit of healthy democracy. The award is named after the former press secretary to presidents Ronald Reagan and George H. W. Bush. Marlin Fitzwater has been a trustee of Franklin Pierce College and serves on the advisory board of the Fitzwater Center for Communications at Franklin Pierce.
The annual recognition is an expression of the mission and philosophy of the Fitzwater Center for Communication at Franklin Pierce, namely that robust debate and informed participation are necessary for effective government. "Ken Walsh is a legend among Washington journalists, and a public communicator of the highest order. He exemplifies every aspect of our highest achievement award," said Marlin Fitzwater who will present the award during the event.
Walsh has been U.S. News and World Report's White House correspondent for more than 20 years. He has covered the presidencies of Ronald Reagan, George Herbert Walker Bush, Bill Clinton, and currently George W. Bush. Walsh joined the magazine in 1984 as a congressional correspondent and has covered the presidency, presidential campaigns, and national politics. His work has been recognized with the two most prestigious awards for White House coverage: the Aldo Beckman Award in 1991, and the Gerald R. Ford Prize for Distinguished Reporting on the Presidency in 1992 and 1998.
Walsh has written four books on different aspects of the presidency and he lectures around the world on modern Presidential history. Walsh is also a blogger for U.S. News, writing about current television subjects. He served as president of the White House Correspondent's Association for two terms.
Previous recipients of the Fitzwater Award were U.S. Sen. Chuck Hagel (R-Nebraska) in 2005 and Victoria Clarke, former assistant secretary of defense for public affairs, in 2004.
This year's Fitzwater Center Honors will also feature the presentation of Fitzwater Medallions to a Franklin Pierce alumnus and graduating senior who have made outstanding contributions to public discourse.